Tessellated:
Tessellated Tiles
Head turning tessellated tiles.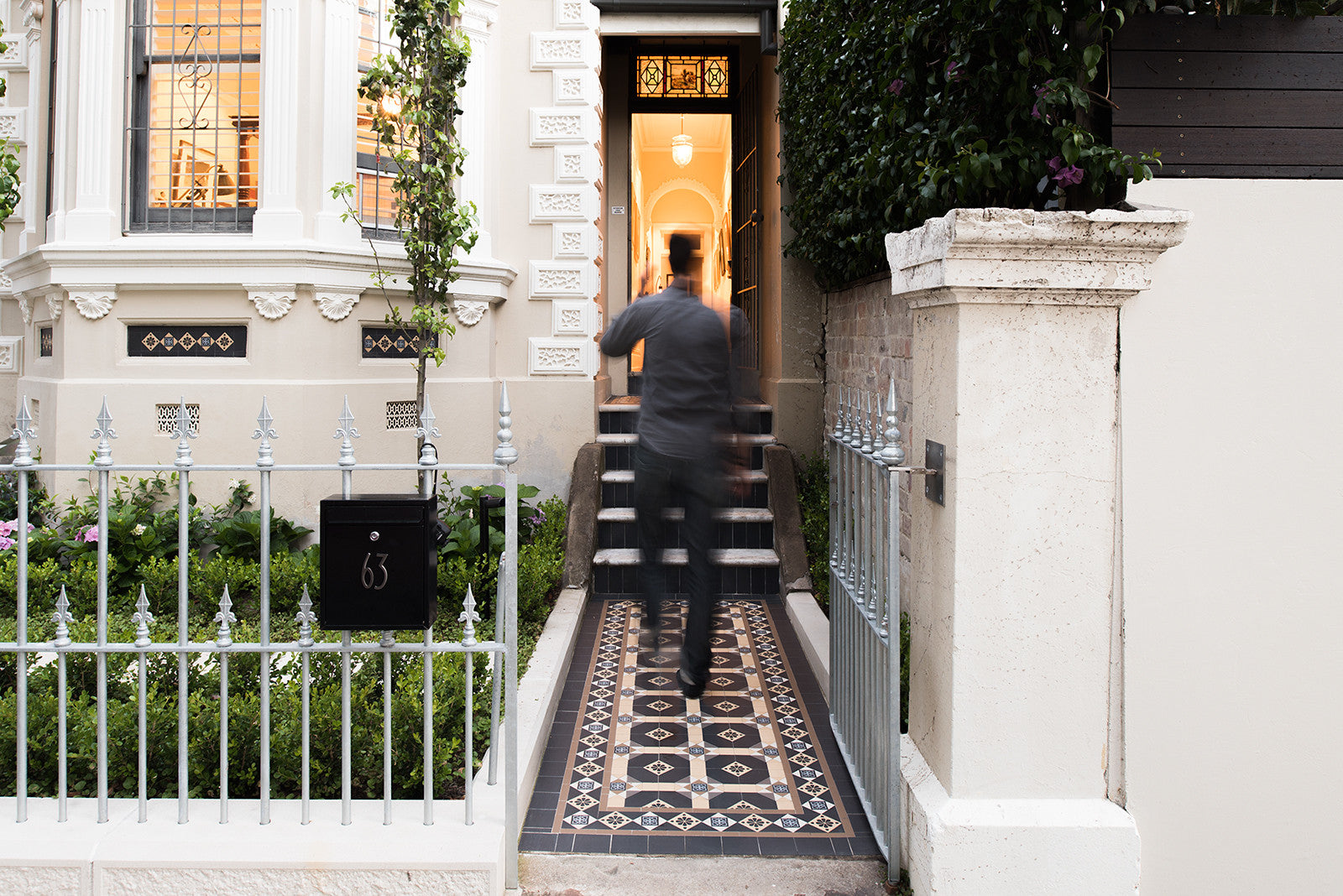 About
Our signature range of tessellated tiles are slip, scratch and stain resistant, fire-proof, hard wearing and versatile. Whether you're renovating a Victorian bathroom or a verandah for a Californian Bungalow, tessellated tiles are the right choice. 
Features
What sets our tessellated tiles apart
Vitrified porcelain

Meets or exceeds industry standards.

Strong, durable, slip-stain-scratch resistant, with colour that goes all the way through, and so dense that sealing is not necessary in most cases.

Hundreds of patterns

Infinite design possibilities - traditional & modern

We have a pattern for virtually every conceivable situation, location, budget, design brief. There's nothing that can't be achieved with our tessellated collection.

Huge colour range

Unlimited scope for commercial/residential design

32+ plain & 26 speckled colours across 24 format shapes and sizes, these porcelain tiles can be used in any type of heritage or contemporary project.

Historically authentic

5 generations of family tradition

Authentic heritage product with a 120+ year history of continuous French manufacture has resulted in a vast repository of traditional knowledge - your guarantee of authenticity. These tiles are defined by beauty, not fashion.
Want to talk to an expert?
We've been doing this for decades. Come into our showroom now.
Inspiration
Recent projects.
Products
The best of our Tessellated Tiles
Special Feature
Designer Series
Olde English Tiles recently approached leading Sydney interior designer Dee Cotter to collaborate on the creation of a range of tessellated tile patterns to complement our traditional range. Dee has used our tiles in her spectacular Victorian terrace renovation and knows first hand how to bring an original tessellated pattern to life with contemporary colours.
Heritage Patterns
Our signature range of tessellated tiles are slip, scratch and stain resistant, fire-proof, hard wearing and versatile. Whether you're renovating a Victorian bathroom or a verandah for a Californian Bungalow, tessellated tiles are the right choice. Scroll products to see 4 colourways.
Heritage Borders
Olde English Tiles™ tessellated borders have been designed and refined to pair perfectly with our tessellated tile patterns. Whilst aesthetically beautifully, tessellated borders serve an important function, too: if laid correctly, they will disguise the irregularity in non-perpendicular walls commonly found in rooms of heritage buildings and create the illusion that the room is perfectly square. 
Heritage Panels
Often used as the central feature to a tesselalted tile floor, our tessellated panels have been designed to complement our patterns. Often used as a feature piece or as decorative elements in a simple floor, our tessellated panels are custom-made right here in our factory in Camperdown, Sydney. 
Contemporary Patterns
No longer are tessellated tiles limited to period projects. This new collection features modern geometric patterns suited for contemporary houses and commercial projects. Click on the pattern to scroll and see all four colourways. Unlike our heritage collection, you'll notice the patterns are less intricate and feature pops of pinks and green. Scroll products to see 4 colourways.
Colour palette
Colour range
Bring your personal vision and style to bear on our huge range of patterns to create a bespoke design that coordinates perfectly with your home's unique decor. With a palette of over 30 plain and 25 speckled colours there's nothing you can't achieve with our mosaic/tessellated range.
How to
Tips from a Designer.
Why Choose Us?
The first, and still the best.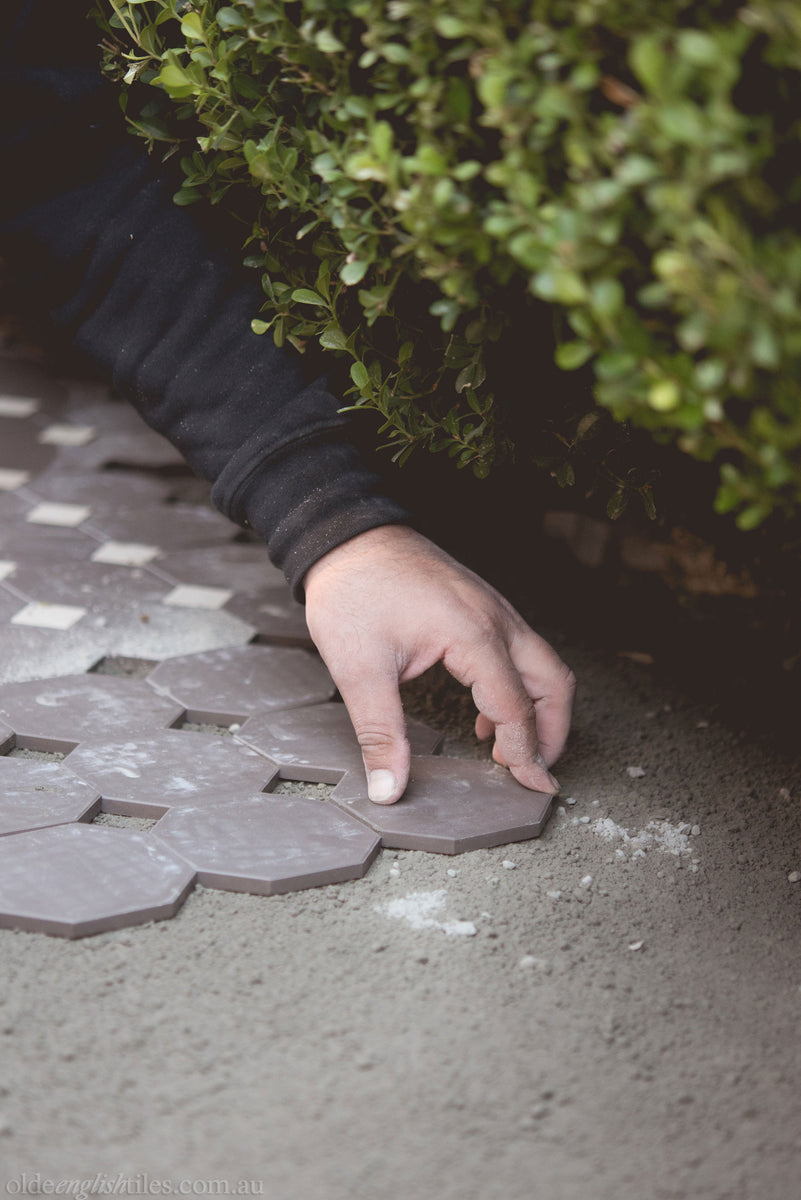 Established In 1982

In 1970 our founder, Antonino Gaudioso reintroduced the lost art of tessellated tiling to Australia. In 1982 the Olde English Tile Factory was established. Today we are recognized as the leading authority in the field.

Dedicated Installation Team

Quality tessellated tiles require quality installation. It's for this reason that we operate our own installation division, staffed by experienced tilers who specialise exclusively in heritage projects.

Trusted By The Best

OET has been engaged by all levels of government, leading architects & designers, heritage councils, church and academic institutions. Our work on the restoration of thousands of period buildings is your guarantee.

Endless Possibilities

To complement our huge range of floor tiles we have an extensive range of plain & decorative wall tiles suitable for any type of heritage project. We offer the ability to create a complete environment - from top to bottom.

An Artisan Approach

For decades we've been hand glazing wall tiles in authentic heritage colours, and fabricating tessellated patterns to your specifications. We can also provide you with bespoke mosaic patterns, plus encaustic tiles.
We highly recommend Olde English Tiles. From our initial consultation with Steven and Tony to the laying of the tiles was done professionally and efficiently. We are so pleased with the result. It looks amazing. Thanks Steven. Julie and Derek

Dom from Olde English Tiles was so easy to deal with - from the moment we walked in, to the time our tessellated tiles were laid! Olde English Tiles provide quality product, excellent service and great value for money. Would highly recommend using OET for anyone looking to add old-world charm to their home.

I would highly recommend Olde English Tiles to anyone who wants quality with professionalism, as well a team who go above and beyond to make sure the result is perfect!. Steven and Tony were exceptional, from design to final execution. As our pathway was going to be built new, there were several issues we were unable to understand, Steven and Tony would come to site and liaise with our builder so all levels and entry steps were exactly where they needed to be, in order to create our beautiful feature pathway! We love it!
FAQs
Frequently asked questions.
What patterns are suitable for my style of house?

Some patterns have a general appeal across a range of architectural styles - Georgian, Victorian, Federation, Inter-war & modern. Patterns such as the Bath (checkerboard), Olde English (octagon & dot), Killara and Stanmore fall into this category. However, in the case of the octagon & dot, what does change from period to period is the colour combination.

Geometrically complex patterns are somewhat more period specific than the above classics. Tessellated patterns like the Bristol, Devon, Brighton and Fitzroy, to name just a few, are well suited to the Gothic Revival style. They can also be found on Italianate, Boom Style, Queen Anne and early Federation homes, but with subtle variations. Highly elaborate patterns e.g. Woollahra, Westleed, Manchester and Petersham, reflect the decorative richness of Boom Style architecture, but as the 19th century came to an end and the Federation period got into full swing, the patterns reverted to the relative simplicity of the pre-Boom era - Raglan, Annandale, Leeds, Windsor and York being particularly popular but with one significant difference - the gradual rejection of encaustics.

By the time California Bungalows were the dominant architectural style for homes, tessellated patterns had become simpler still. The Raglan, Killara, Olde English, Liverpool, Chester and Brighton were common choices. Added to the simplicity of the patterns was a corresponding simplification of the colour palette.

Can I change the colours in a particular pattern?

The simple answer is, "Yes". Because tessellated patterns are supplied as loose componentry, any and all the colours of any pattern can be changed to suit your taste and decor. Some people can find this degree of freedom to choose intimidating, and prefer the reassurance of knowing what colours are appropriate to the style of their house, just as some people prefer to know what patterns are best suited to their style of house.

What determines a pattern's suitability for a particular style of architecture is less the pattern itself than it is the colours that are used.

A typical 1880s - 90s colour palette would include dominant colours of red, oatmeal and coffee, with accents of black, white and a hint of deep sky blue. From the late 1880s to the late 1890s certain colours - pale blue, mauve, pink, light green were introduced, but always with restraint. Their use typifies the floors of Boom Style houses. By the beginning of the 20th century not only had these colours fallen out of favour, but the use of deep sky blue, virtually ubiquitous in the floors of the 1870s - '90s, had become a far less common element. As the century progressed even the use of black and white as accents had decreased significantly till, by the end of the 1st World War, tessellated floors were being executed in a very limited colour palette of brown, coffee, oatmeal, with red as an optional accent colour.

Do Olde English's tessellated tiles need to be sealed?

Olde English Tiles are the exclusive importers of Winckelmans complete range of fully vitrified unglazed porcelain tessellated tiles. They have a porosity level of 0.1% - 0.5%, which is lower than the European standard required for porcelain tiles. This level of porosity means the tiles are virtually impervious to staining. Winckelmans advise that sealing is optional but not necessary. If you elect to seal these tiles it is recommended that it should be done a few days after the tiles have been laid and after the cement film has been thoroughly removed. Only use a quality sealer designed for use on vitrified porcelain tiles. Just to reiterate - sealing is optional.

How much does it cost to lay tessellated tiles?

The cost of laying a tessellated floor depends on a number of factors including: the type of pattern (octagon & dot v. Fitzroy), the location of the area being tiled (pathway v. upstairs bathroom), size and shape of the area (a curved path v. a square verandah), access to the site, and the amount of preparation required, but the rule of thumb is that the cost of the tiles will give you a rough indication of the cost of installation.

Do tessellated floors come sheeted?

The simple answer is, "No" - for several reasons:

i/ Weight - because of the thickness of the tiles (9mm) and the great variation in the sizes of the components that make up a pattern, plus the size of certain pattern repeats, it is not recommended to sheet tessellated patterns, as it does not yield a satisfactory result.

ii/ Laying - because tessellated floors need to be laid on sand and cement, not synthetic adhesive, sheeting is not possible. Sheeting would result in an inadequate bond with the sand and cement bed.

iii/ Joints - tessellated floors need to be laid with a very narrow joint between the individual components: 1-1.5mm. If you look at an original old tessellated floor the pieces appear to be almost butting up to each other. Sheeting components so close together is likely to result in them becoming chipped.

A skilled tessellated tiler (and would you want anything else?) actually will prefer to have loose pieces, which allow him to create a more seamless, authentic look.
Articles
Want to learn more?
how to guides

How To Choose Tiles For A Period Home

If you own a period home and you plan to purchase new tiles, it is worth starting off by asking yourself, "Do I intend to restore or renovate this area?" Nowadays, restoration i...

how to guides

Federation Tiles- A How To Guide

With their character-rich features and laid-back charm, Federation homes (built 1890-1915) are one of Australia's most popular architectural styles. They were less formal than ...

how to guides

Tessellated Tiles - A How To Guide

Tessellated tiles are the perfect finishing touch for a heritage home – and they can look incredible in contemporary homes too. Here's how to choose with confidence. What are t...
Get In Touch
We'll come out to you, assess your space and help you choose the surface of your dreams.