Encaustic
Encaustics Tiles
Floors that last a lifetime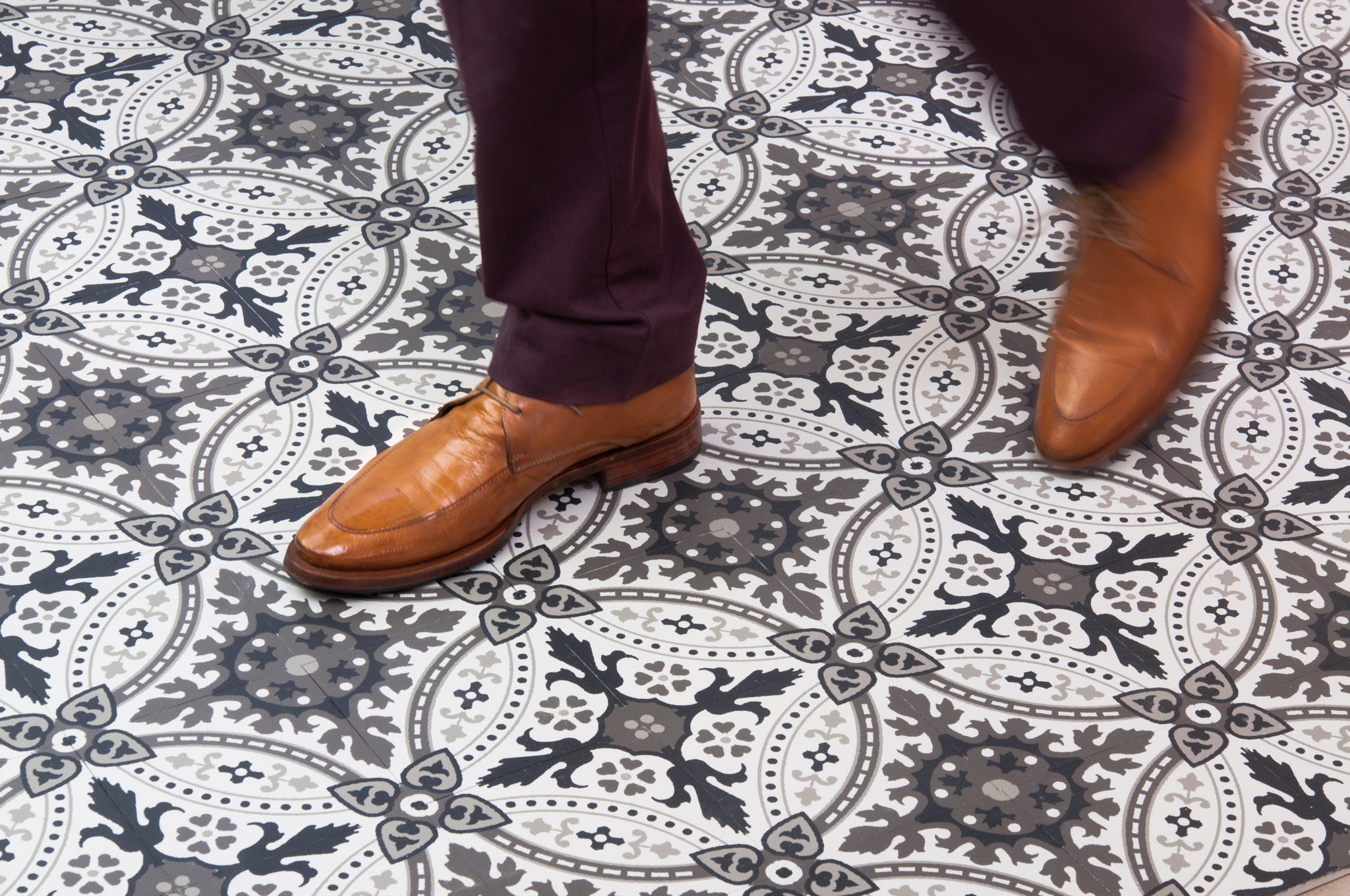 About
Our encaustic tiles are versatile and suitable for a range of commercial and domestic settings, including bathroom floors, dining areas, and more. Strong, durable, scratch-stain-slip resistant, and with colo...
Features
What sets our encaustic tiles apart
Vitrified porcelain

Meets or exceeds industry standards.

Strong, durable, slip-stain-scratch resistant, with colour that goes all the way through, and so dense that sealing is not necessary in most cases.

Huge range of patterns

Traditional & modern; commercial & residential

Whether a pathway on a Victorian terrace, a bathroom in an Art Deco apartment, the waterline of a swimming pool or the entrance to a stylish boutique, we have patterns for every situation.

Imported - Continuous Encaustics

Meets or exceeds industry standards

Strong, durable, slip-stain-scratch resistant, with colour that goes all the way through, and so dense that sealing is not necessary in most cases.

Local manufacture - Printed Feature Encaustic

Meets or exceeds industry standards

Printed on strong, durable, slip-stain-scratch resistant, solid-colour porcelain, so dense that sealing is unnecessary in most cases.
Want to talk to an expert?
We've been doing this for decades. Come into our showroom now.
Products
The best of our Encaustics Tiles
Continuous encaustics
Our Continuous Encaustics are manufactured in France using the original method patented in the early 19th century. These 150x150mm vitrified porcelain encaustics are suitable for floors and walls, indoors and out.
Feature Encaustics
Olde English Tiles has been screen-printing 'encaustic' tiles since 1984. These designs are based on the encaustic tiles incorporated into the original Victorian tessellated floors as highlights, and have been used in numerous prestige restoration projects worldwide.
FAQs
Frequently asked questions.
What is an encaustic tile?

Olde English Tiles carries two types of 'encaustic' tile. The first is the Continuous Encaustic type, which is a 150x150mm decorative porcelain tile manufactured in the traditional 19th century manner in which the pattern, composed of pigmented porcelain dust, penetrates into the body of the tile, also made of porcelain dust, to a depth of about 3mm. The tile is then fired at 1200 degrees, so that all the porcelain fuses together. The result is an extremely hard fully vitrified product that, according to the French manufacturers, will last for centuries.

The second type is a vitrified porcelain tile that has a pattern screened onto the surface using specially formulated ceramic inks which penetrate into the surface of the tile. They are then fired at approximately 1000 degrees. The resulting product will last in excess of 50 years. These patterns are available in a range of sizes from 50x50mm up to 150x150mm, and in strips 25x150mm and 75x150mm.

Do your encaustic tiles need to be sealed?

Olde English Tiles are the exclusive importers of Winckelmans complete range of fully vitrified unglazed porcelain continuous encaustic tiles. They have a porosity level of 0.1% - 0.5%, which is lower than the European standard required for porcelain tiles. This level of porosity means the tiles are virtually impervious to staining. Winckelmans advise that sealing is optional but not necessary. If you elect to seal these tiles it is recommended that it should be done a few days after the tiles have been laid and after the cement film has been thoroughly removed. Only use a quality sealer designed for use on vitrified porcelain tiles. Just to reiterate - sealing is optional.

Can your encaustic tiles be used outdoors?

Yes, they can. Our encaustic tiles are made from the same material as our tessellated and mosaic tiles - fully vitrified dry-pressed unglazed porcelain, fired at 1200 degrees centigrade. Our encaustics have the same technical properties and meet the same European standards as our tessellated and mosaic tiles.

How do I choose the right encaustic tiles for a bathroom or laundry?

In heavy traffic, wet rooms such as a bathroom or laundry, you need a tile that is durable, safe, non-porous, AND easy to maintain. Fully vitrified porcelain encaustic tiles are the best option, although they are at the higher end of the budget. Cement tiles on the other hand are relatively soft and porous, and stain easily unless sealed. Over time the colours tend to fade. These tiles are not well suited to bathrooms and laundries. When choosing the colours and pattern of encaustic tiles for your bathroom or laundry, consider whether you want them to be the star of the show or to blend into the background. A graphic, brightly coloured encaustic tile floor, for example, is guaranteed to add impact to a bathroom or laundry, but is best balanced with white or neutral wall tiles (such as subway tiles) and simple fixtures and fittings – particularly if the room is small. If you'd prefer to draw less attention to the tiles and more to other elements in the room, such as decorative tapware or cabinetry, opt for a design with a simple pattern consisting of just one or two soft neutrals.